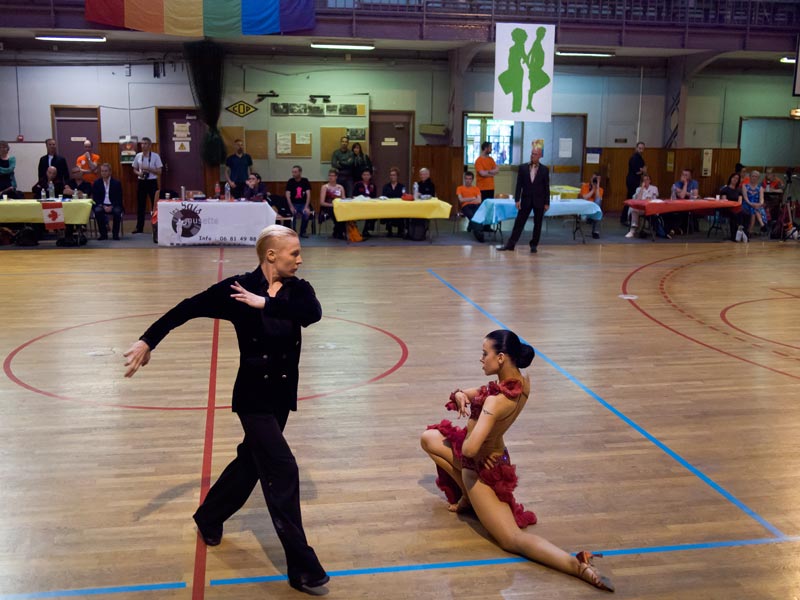 Rainbow Evidanse is happy to welcome you on the website of Le Rendez-Vous de Paris. You will find here all news and information useful for attending or taking part in the 6th edition of the only international same-sex and mixed dancing competition held in France.
This competition will be held on Saturday May 7th 2016 at the gymnase Jean Jaurès (Paris 19th arrondissement), and will bring together some of the world's best dancers in latin and ballroom dancing. It will be open to women/women and men/men dancing couples, of any level and any age, as well as mixed couples, in order to stress out our engagement in fighting against discrimination. In this mixed couples competition, men and women can choose their role independently of their gender.
A fun competition will take place during the event. This competition will be open for everyone, both audience and competitors (except categories A and B), and for all couples (female-female, male-male, female-male, male-female). It will be a unique chance for the audience to take part in the competition. On-site registration.
During this day, periods will alternate between competition, where spectators will attend a real dancing show, and social dancing, where everyone will be welcome on the dancing floor in order to fully enjoy the event.
The following day, a ball will be held so as to fulfill the dance weekend and will be open to everybody: experienced dancers or beginners and people willing to discover this practice. This ball will be organized by Rainbow Evidanse.
You can find the program, for spectators and competitors, in the menu "program".