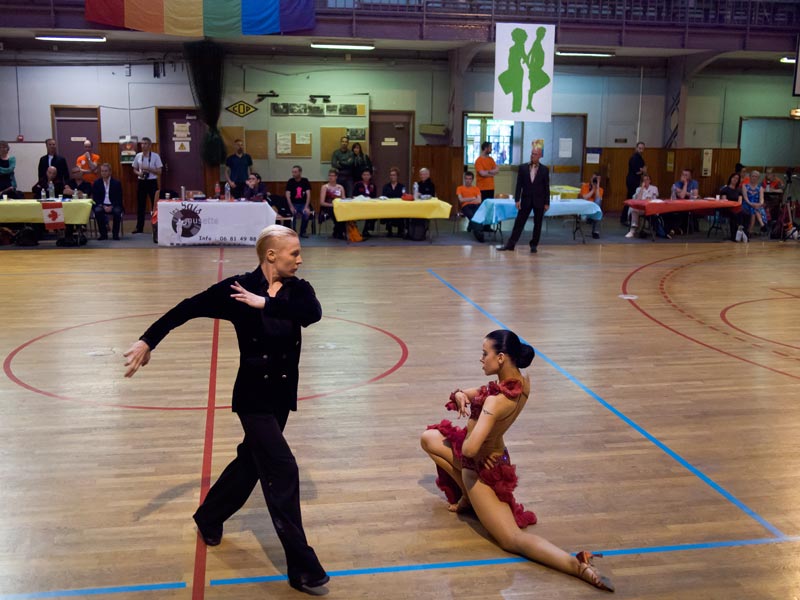 Rainbow Evidanse is pleased to welcome you on Le Rendez-Vous de Paris website. You will find here all news and information useful for attending or participating in the 7th edition of the only international same-sex and mixed dancing competition held in France.
This 7th edition promises to be exceptional in more ways than one!
First, it prefigures the GayGames Paris 2018 and world championships sport dance competition which will take place from 6th to 10th August 2018. In order to start to get into the atmosphere,
The competition will take place in the venue (Japy Gymnasium) of the GayGaymes / Paris 2018 and the 2018 World Championships competitions.
It will be arbitrated by 7 adjudicators out of a 9 international adjudicators panel
The program accounts the usual competitions of Le Rendez-vous de Paris (standard dances, Latin dances, combined 10 dances (women, men, mixed couples) but also new ones, on the Gaygames agenda (show dance, formation team, handidance) and a demonstration of Argentino tango.
Second, as a 10th anniversary special, ESSDA will award four Grand Slam titles for same-sex dances couples in 2017 ! This will be based on a combined result from the following European competition for adult male and female couples:
the Pink Jukebox in London on February 18, 2017
Le Rendez-Vous de Paris in Paris on April 15, 2017
the German Open in Fürth on 29-30 April 2017
the European Championships in Berlin on 27-29 July 2017.
A couple is eligible for a Grand Slam title if they compete in three of the four mentioned competitions.
For more information: http://essda.eu/category/news/10th-anniversary/
Le Rendez-Vous de Paris is not just a dance competition, it is above all a entertaining moment and the opportunity to rediscover and share our values of solidarity, inclusion, open-mindedness.
It starts with a cocktail in the ballroom of the 11th arrondissement city hall on Friday 14th April from 6pm to 8pm
Between the phases of competition there will be moments of social dancing where each and every one are expected to join the dance floor to complete the full of this event
A « fun competition » will also be organized, open to all, for all couples (same sex and mixed), and at all levels (except the highest competitor categories). This moment will be an opportunity for the public to participate even more actively in this event. Registration will be on-site.
The day after the competition, a tea dance will conclude this weekend of sport and social dancing. This ball will be opened to all: dancers and confirmed dancers, beginners, or simple onlookers, This ball will be hosted by Rainbow Evidanse.

You can find the program, for spectators and competitors, in the menu "program".