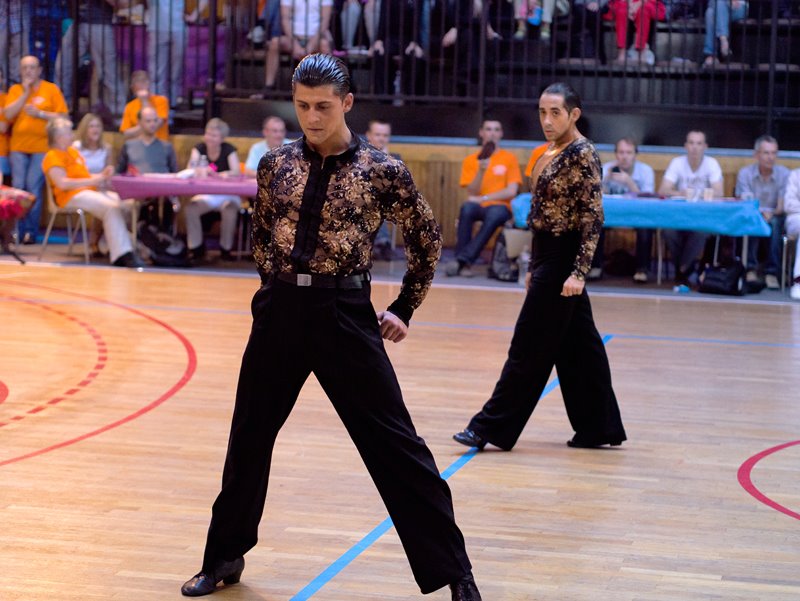 The competition
Applicable rules are those of the European Same-Sex Dance Association (ESSDA).
This competition will be held on Saturday April 15th 2017 at the gymnase Japy (Paris 11th arrondissement).
The competition will be held with 7 adjucators out of a panel of 9 international and French adjudicators.
Standard dances, latin dances and 10 Dances Combined (male and female couples, mixed couples)
The competition is divided into 4 categories A, B, C, D, from confirmed competitors (A category) to beginners who take part for the first time in a competition (D category). The distribution of couples according to their categories is performed by the judges, during the first rounds of the competition, where categories dance together.
10 dances combined will not consist in a specific competition but in a classification made by adding the marks obtained in both latin and standard competitions.
Dances presented depend on the category they compete in.
For ballroom :

C and D categories: slow waltz, tango, quick step
B category: slow waltz, tango, quick step, slow foxtrot
A category: slow waltz, tango, quick step, slow foxtrot, Viennese waltz

For latin :

C and D categories: cha-cha-cha, rumba, jive
B category: cha-cha-cha, rumba, jive, samba
A category: cha-cha-cha, rumba, jive, samba, paso doble
Showdance
One couple dancing a solo performance and may dance any single or multiple styles (any partner dance style). Routine will be no longer than four (4) minutes in length and may include changes in rhythm and dance styles. May include lifts..
Formation Team (show category for teams of couples or individuals)
Open Dance Routine: Teams desiring to perform routines primarily for entertainment with significant dance content. Must have a minimum of six (6) individuals.
Couple Dance Routine: Any routine that is performed as couples (same gender or mixed gender) dancing together in a joined configuration throughout. Must have a minimum of three (3) couples.
Routine will be between three and six (3-6) minutes in length including entering and exiting the dance floor. May include lifts.
Handidance
Enforcing the rights of every disabled person is a cardinal value of Rainbow Evidanse and the GayGames Paris 2018 « all equal ». The Art of Dance therefore has a special place in the field of integration, inclusion as bodily and sensorial messages.
Dance allows all persons with disabilities to harmonize their differences, to express themselves, to develop and to affirm their personality to integrate; BEING DANCER.
The competition is open to people with visual, auditory, intellectual and / or motor disabilities.

The fun competition
The fun competition is primarily intended for the audience. Everyone will have the opportunity to register on-site for a tango and/or a cha-cha-cha.
The goal is to have fun, dance in front of people and enjoy the excitement of competition. That's why registration will be open to everyone, except to those who do competitions in level A or B.
The jury will be composed of judges from the main competition.