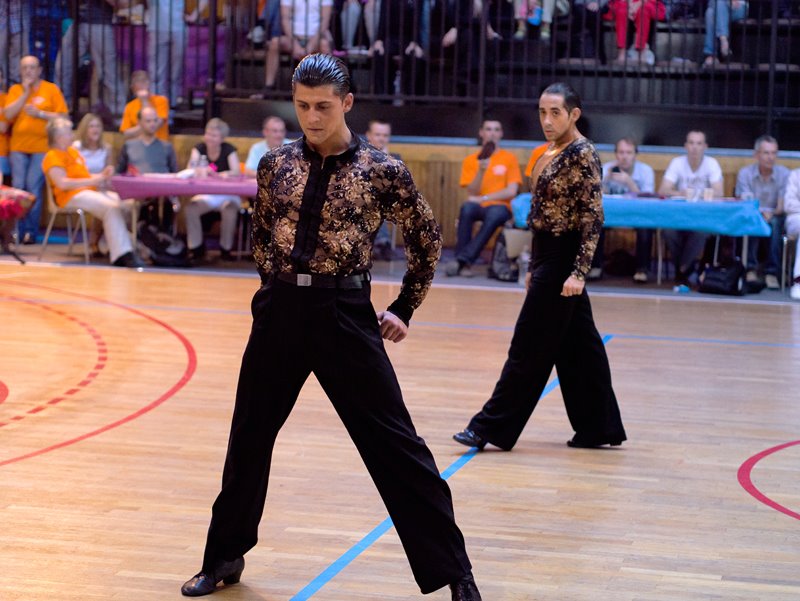 Competition
The European Same-Sex Dance Association (ESSDA) rules and guidelines shall apply to this competition.
The competition will take place on Saturday, May 18, 2019 at gymnase Japy (Paris 11th).
The competition will be arbitrated by 5 international and French judges:
Kathie Krick (Germany) for standard dances, showdance and handidance
Mark Hebell (Germany)
Luc Richer (Canada)
Jean-Claude Venturini (France)
Louise Sampson (UK)
Patrick Sharkey (UK) for latin dances
The chairman of adjudicators is Patrick Sharkey (United Kingdom) for standard dances, showdance and handidance and Kathie Krick for latin dances.
The DJ is Michael Kongso (Danmark).
The masters of ceremony are José Rodrigues and Caroline Lachlan.
The event includes the following competitions:
Standard dances
Latin dances
Showdance
Handidance
10 dances
Fun competition
For women's, men's and mixed couples.
Latin and standard dances
The Latin dances and standard dances competitions are divided into 4 classes ranging from confirmed competitors (A class) to beginners (D class). The distribution of couples according to their categories is made by the judges during the classification rounds.
Dances presented depend on the class competitors compete in.
For ballroom :

C and D categories: slow waltz, tango, quick step
B category: slow waltz, tango, quick step, slow foxtrot
A category: slow waltz, tango, quick step, slow foxtrot, Viennese waltz

For latin :

C and D categories: cha-cha-cha, rumba, jive
B category: cha-cha-cha, rumba, jive, samba
A category: cha-cha-cha, rumba, jive, samba, paso doble
Combined 10 dances
Combined 10 dances will not consist in a specific competition but in a ranking made by adding the marks obtained in both latin and standard A classes competitions.
Showdance
Each couple dances a solo performance of four (4) minutes maximum, in one or more dance styles or change of rythms. Lifts are allowed.
Handidance
Enforcing the rights of every disabled person is a primary value of Rainbow Evidanse and Equality dancing. The Art of Dance therefore has a special place in the field of integration, inclusion as bodily and sensorial messages.
Dancing allows all persons with disabilities to harmonize their differences, to express themselves, to develop and to affirm their personality to integrate, to be just a dancer.
The competition is open to people with visual, auditory, intellectual and / or motor disabilities.

The fun competition
The fun competition is primarily dedicated for the public. Anyone can register on the spot, till the last minute, to feel the thrill of competition in either Latin dance and/or standard dance.
In standard dance, the competition dance will be Tango.
In Latin dance, the competitive dance will be Cha-cha-cha.
The objective is obviously not to confront the most experienced dancers (A and B classes dancers are kindly requested to give up their place), but to have fun, to enjoy, to feel the stress that precedes the entry on the dance floor, and so many other things.
The couples will be marked by judges present at the competition, according to the same criteria.